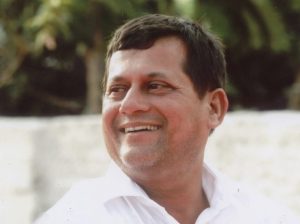 Prof. Achyuta Samanta
Achyuta Samanta, after obtaining Master's Degree in Chemistry in 1987 from Utkal University, started his career at 22 years of age. He has 30 years of teaching experience to his credit so far. 
Prof. Samanta went on to serve KIIT University as its first Chancellor and has had the distinction of being the youngest Chancellor of any Indian University. He served University Grants Commission (UGC) as Member for two consecutive terms (2008-11 & 2011-2014) and was a Member of the Executive Committee of All Indian Council for Technical Education (AICTE). He was also member of several other Government of India bodies like, NCTE, ISTE, ISCA, COIR BOARD, CAPART and many more. He has been a Member on the Academic Council of Central University, Silchar, Assam and the Central University, Odisha. He was the first Indian to be Member of both UGC and AICTE simultaneously and the first Odia to become Member of UGC and many other statutory bodies. Presently, he is the General President of Indian Science Congress Association (ISCA). He has delivered nearly 100 motivational speeches, including convocation addresses and foundation day lectures, in different institutions and organizations across the country and the globe.
Dr. Sasmita Samanta
Dr. Sasmita Samanta is a Ph.D. in Human Resource Management. She began her career in 1996 and has held various responsible positions in KIIT. An astute academic administrator, she has also been officiating as Director, Admission since 2004.